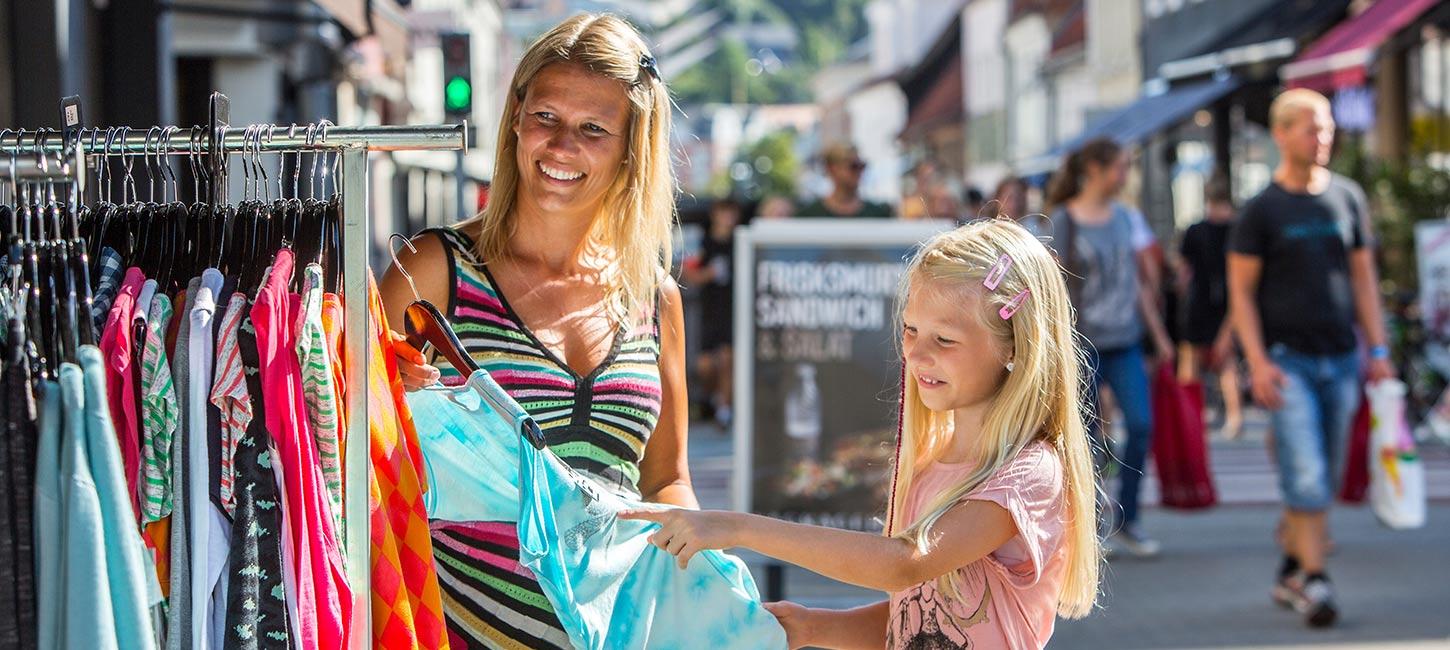 Shopping in Vejle
Shopping should be an enjoyable experience – and that's the case in Vejle. There is plenty of atmosphere, a wealth of exciting design and specialty stores, cosy cafes and restaurants.
Set aside plenty of time for shopping in Vejle. Here, in the charming streets you can stroll for hours. Vejle is a shopping haven with hundreds of shops to explore with everything from small trendy designer boutiques, exclusive fashion stores, well-stocked wine shops and budget-friendly vintage boutiques to superstores and shopping centres.
Denmark's Most Beautiful Shopping Town
In Vejle, the service is unmatched and Vejle has been voted Denmark's Most Beautiful Shopping Town 2020-22. Vejle has also previously been hailed Denmark's best, Denmark's friendliest and Denmark's most service-minded shopping town.

Vejle's pedestrian street
The largest concentration of shops in Vejle is centred around the 900-metre pedestrian street in the heart of town. The charming granite-paved pedestrian street extends across Søndergade, Torvegade, Nørregade and Vestergade. All with their own charming squares, side streets, passageways and charming courtyard. At Søndertorv, the Bryggen shopping centre offers 60 stores as well as 700 rooftop parking spaces. On Saturdays, it's market day on Nørretorv. During summer, part of Nørretorv is transformed into an urban beach with sun loungers and palm trees.

Vejle Midtpunkt
In the northern section of the pedestrian street you find Vejle Midtpunkt with an exciting mix of boutiques and eateries. From April to October, you can experience a brightly coloured umbrella sky.
The rest of central Vejle
Scattered throughout the rest of town, you will find a large selection of specialty stores, from electronics, lighting and furnishing stores to jewellery and musical instrument boutiques.

Vejle Nord
In the northern part of Vejle – by the Vejle Nord motorway exit – you find the Bilka superstore, DIY centres, furniture stores, kitchen centres, garden centres and car dealerships.

Shopping in Børkop, Egtved, Give and Jelling
The smaller towns around Vejle – Børkop, Egtved, Give and Jelling – also offer fine shopping opportunities.
Links to shopping in Børkop, Egtved, Give and Jelling
What are the shopping hours in Vejle?
Indicative shopping hours in Vejle
Monday-Thursday: 10:00 - 17:30
Friday: 10:00 - 19:00
Saturday: 10:00 - 15:00

Superstores, supermarkets and some specialty stores are open longer.
Indicative shopping hours in the Bryggen shopping centre
Monday-Friday 10:00-19:00 (Kvickly 8:00-20:00)
Saturday 10:00-16:00 (Kvickly 8:00-20:00)
Sunday at 10:00-16:00 (Kvickly 8:00-20:00)
Extended opening hours in Vejle
See extended opening hours (Open by Night, Kulturnat, Black Friday, etc.) at cityvejle.dk (in Danish).
Where can I park in central Vejle?
Finding a parking space in central Vejle is easy. Some parking spaces are free, while others require paying a parking fee.

There are over 1,400 parking spaces in central Vejle with two hours of free parking, such as in the parking garages Tróndur and Albert and on the rooftop of the Bryggen shopping centre.

You can read more about parking in central Vejle at vejle.dk (in Danish)