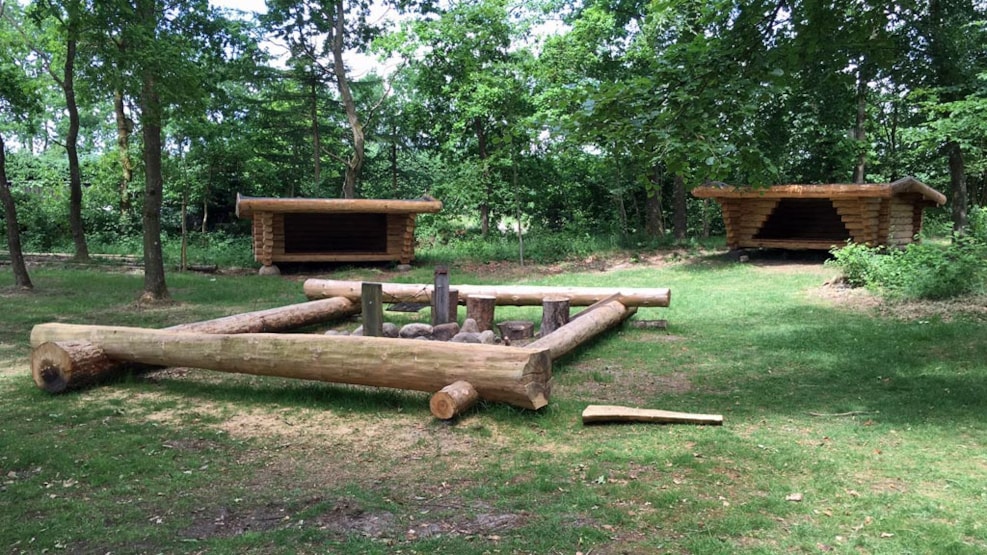 Bindeballe Købmandsgård – tent site and shelters
The nature tent site is located on a large lawn behind Bindeballe Købmandsgård (old grocer's store). Here there is room for 10 tents and there are two shelters, each with space for 3-4 people. At the tent site there are two campfire places, a campfire hut with BBQs and tables/benches.
Several campfire places are covered. Firewood can be purchased at the old grocer's store for DKK 40 per sack. You may neither gather firewood in the area nor bring firewood with you.
There is access to water, a toilet and shower at the old grocer's store's backyard. You can purchase coffee, water, muffins and cakes in "Kaffehuset", although you are also welcome to enjoy your own picnic basked in the indoor eating area (costs DKK 10). The café has a stove, which is free of charge.
Adjacent to the tent site there are 3 small cabins for rent. Across from the old grocer's store there is a pen with hay for horses.
Bindeballe Købmandsgård was founded in 1897 when the Vejle-Vandel railway started operation. The old grocer's store is still an old-fashioned grocery store and is also Denmark's largest grocery museum. The old railway track has been transformed into the attractive cycling and hiking trail Bindeballestien – an almost car-free and flat pathway reaching from Vejle to Bindeballe and on to Billund.
Location
The nature campsite is located behind Bindeballe Købmandsgård by the Bindeballestien hiking and biking Regional Route 36 and about 2 km from the Ancient Road (National Route 3).
Booking
Staying overnight at the tent site costs DKK 40 per person per day, children DKK 25. It is recommended to book shelters ahead. Booking can be made by telephone to Bindeballe Købmandsgård.