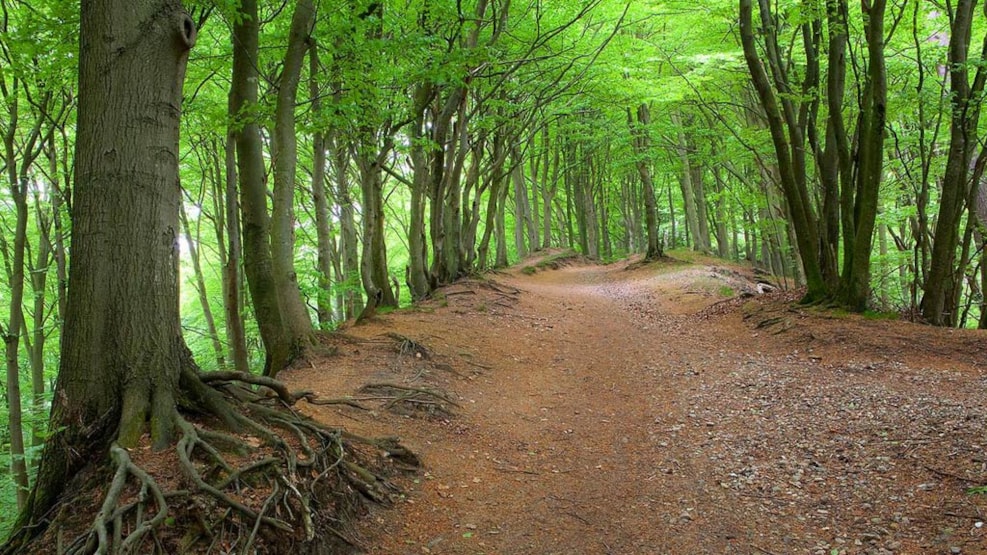 Guided hiking tours – Discover Munkebjerg Forest
Head out on a guided hiking tour through Munkebjerg Forest. The woods are known for wild nature and magnificent views. The beech trees in Munkebjerg Forest are also believed to be some of the first to green when spring unfolds in Denmark.
The tour starts at Munkebjerg Hotel. From here, you hike through hilly terrain along a glacial ridge with many deep gorges – a scenic landscape created shortly after the last Ice Age 14,000 years ago. Here, you can experience a famous bushland of common yew, which today is a fully protected nature reserve. There are also several species of wild orchids in the forest. The wildlife of Munkebjerg Forest is quite unique. If you're lucky, you'll spot a stock dove or black woodpecker in the trees, where also the rare and endangered hazel dormice nests.
The woods are also home to Troldens Sten (the Troll's Boulder) with its large handprint. The tour ends at the hotel after a walk up the steep, 218-step Munkebjerg stairway. During the tour, the guide will tell you about the history of Munkebjerg Hotel as well as the tale of the bellhop and his donkey, Moses, which in olden days carried the guests' luggage up to the hotel. He will also relate the story about the local artists called the Munkebjerg Painters.
Tickets for this tour must be booked online. Some tours are conducted in Danish, others in English – the flag indicates which language. If you would like to choose the date of your hike yourself, this is always an option. Hourly rates are available under the individual tour guides.