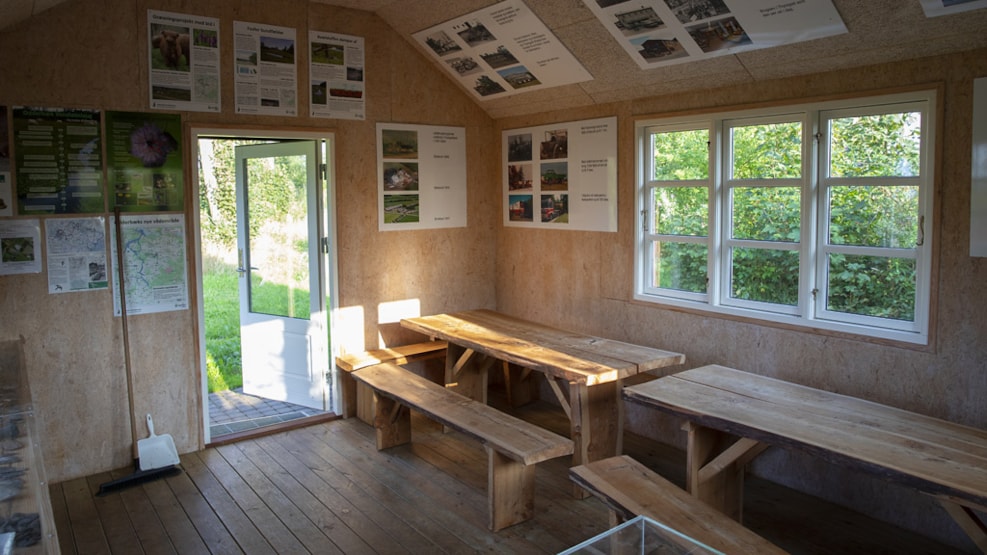 Thyregodlund Præstegård – picnic shelter
The picnic shelter is located in the forest by Thyregodlund Præstegård (Rectory) and has room for 20 persons. The house functions as a picnic shelter for local residents and kindergardens, tourists and hikers on the paths in the Odderbæk area. The house also contains a Grundtvig exhibition with pictures of the rectory and the area as it looked at Grundtvig's time in Thyregod. Bring your picnic and enjoy the view.
Facilities: Picnic shelter, tables and benches
Number of persons: Room for 20 persons under roof, 20 persons at tables and benches in the open
Toilet: Yes
Access to water: No
Access to firewood: No
Other facilities: The location features an exhibition with, among other things, photos of the rectory and of the area as in the age of Grundtvig in addition to images of local agricultural history, the local community through 70 years, and images of ancient finds.
Parking: Vesterlundvej 82, 7323 Give – in the intersection between the Neder-Thyregodlund route and Egeskovruten