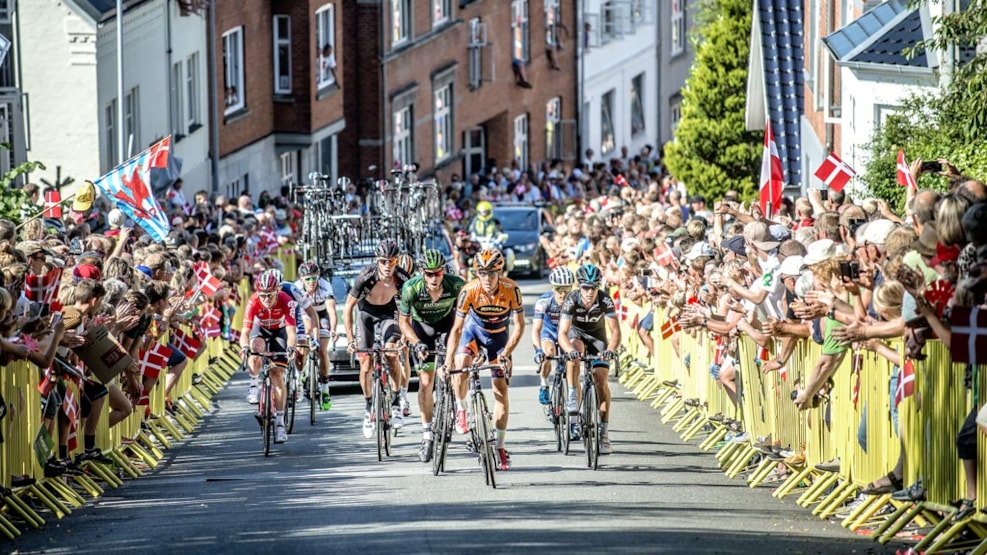 Tour de France
The world's most widely attended road cycling race, Tour de France, will pay a visit to Vejle on 3 July 2022. The three-week spectacle is considered one of the toughest and most prestigious such competitions.
Tour de France was first launched in 1903 and thus has a long history. The historic road race will feature its Grand Départ in Denmark in 2022, where the first three stages of the race will be hosted.
The first stage will take place in Copenhagen and has a length of 13 km. Copenhagen has more bicycles than inhabitants, and the city's cycling culture will set the stage for the Grand Départ.
The second stage will start in the city of Roskilde and will end in Nyborg along a 190-km route, which will cross the Great Belt Bridge. TV viewers will experience the beautiful scenery that Zealand and Funen have to offer.
The third stage starts in Vejle and ends in Sønderborg along a 182-km route that leads riders and TV viewers past no less than two UNESCO World Heritage Sites, namely the Jelling Monuments and the town of Christiansfeld. The Jelling Monuments pay tribute to the birth of Denmark as a nation and to the introduction of Christianity in Denmark by Viking king Harald Bluetooth. With these historic monuments as a scenic backdrop, the Grand Départ will offer an exciting tour start and a unique experience for everyone.