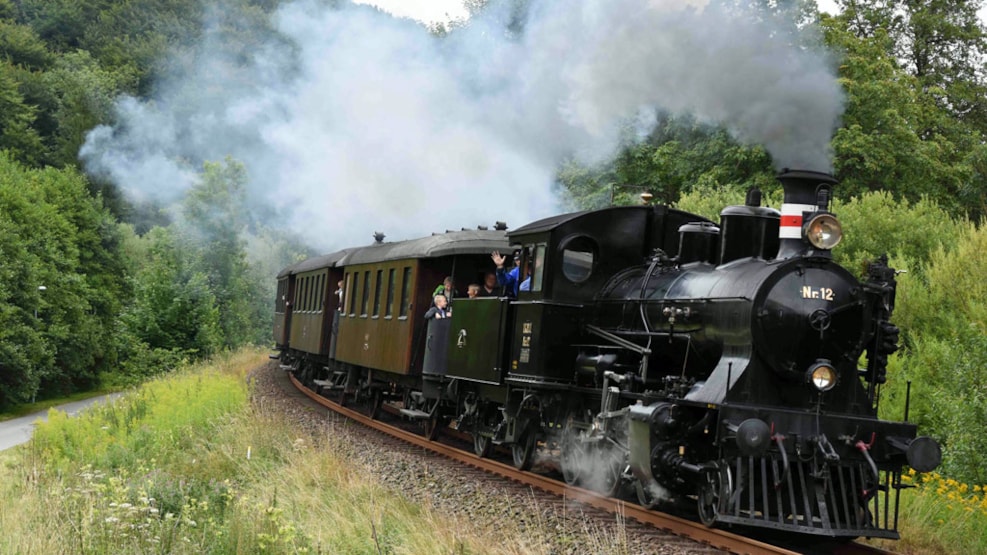 Vintage train rides Vejle-Jelling
Enjoy a little nostalgia aboard a vintage train as it huffs and puffs along the scenic route from Kolding to Vejle and from Vejle through the Grejsdalen valley to Jelling.
During the summer, vintage trains traverse Kolding-Fredericia_børkop-Vejle and then the 14-kilometre scenic valley railroad - one of Denmark's steepest tracks - from Vejle to Jelling where travellers have the opportunity to visit the Jelling Monuments or the Royal Jelling visitor's centre before the train returns to Vejle.

Generally on the second Saturday in December, a vintage train takes visitors to the old flag stop station in the Grejsdalen valley. Here Christmas trees are sold, which travellers can bring back to town on the old freight wagons. Christmas trimmings are also on sale as well as traditional Danish yuletide delights, such as mulled wine.

Facts about the vintage train rides
Sundays 11 July to 15 August 2021. Departure Vejle at 10:11 and 13:11. Tickets can be purchased on board.
 
Book a half or a whole carriage/coach - prices 2021
1/2 carriage/coach (max. 25 pers.): DKK 1500. 1/1 carriage/coach (max. 50 pers.): DKK 3000
Booking of carriages/coaches must be made in advance with the locomotive club, DSB Museumstog.

The locomotive club DSB Museumstog
Hosting the vintage train rides is the Danish locomotive club DSB Museumstog and steam train enthusiasts eager to keep the old vintage trains running.

Vintage trains
Information to follow soon.