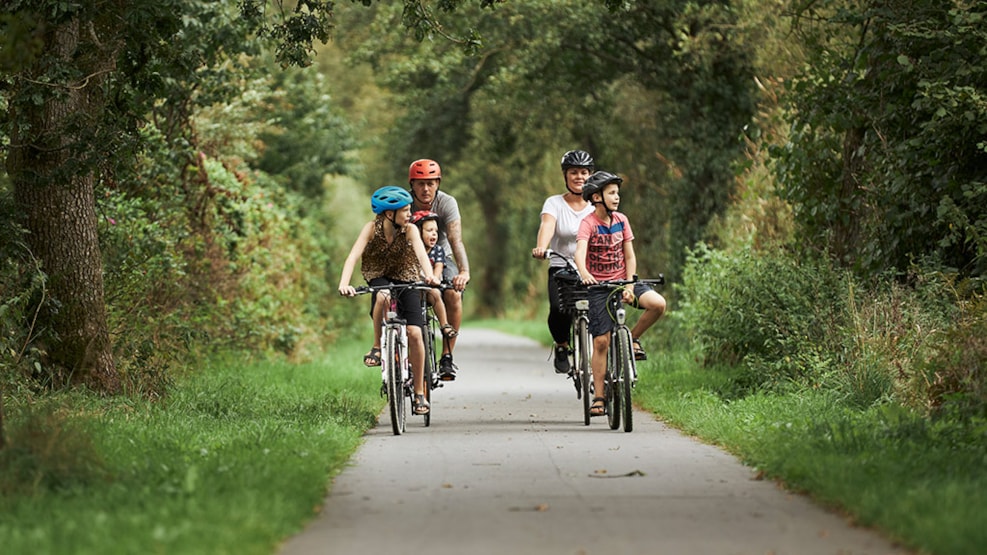 The Bindeballestien Route - Regional Route No. 36
Bindeballestien (Regional Route 36) is an inspiring cycling and hiking route through the scenic Vejle Ådal valley. The 36-kilometer route is almost car-free and runs across open countryside from Vejle to Bindeballe and on to Billund. 
The stretch from Vejle to Bindeballe follows the old Vandel Railway. Here, there are ample opportunities to experience nature and heritage, so make sure you have plenty of time for the trip.

Signposting and map
The Bindeballestien Route is marked as Regional Route No. 36. Download route to GPS.
Attractions (east to west)
Vejle is a modern and charming town of culture. Among the town's highlights are its inspiring pedestrianised shopping, the unique waterfront, the Saint Nicolai Church from the 1200s as well as Vejle's art museum, science museum and heritage museum.
By the embankment close to the river of Vejle Å you find Haraldskær Manor from 1434, which is today a hotel. Skibet Church was constructed using travertine and has a Romanesque nave and chancel. In the chancel, there are frescoes from the 1200s.
Vork Bakker is an almost alpine-like natural area with downs, narrow gorges, forests, lakes and fields.

Vingsted has a wonderful recreational area with e.g. an underwater observation box, where you can study the aquatic life of the river. Vingsted Lake is one of the nation's most exciting sacrificial bogs from the Iron Age. Nearby, there is a recreated Iron Age settlement.

At the old Ravning Station you can learn about the inspiring story of the bridge across Vejle Ådal valley, built by Viking King Harald Bluetooth. Close by there is a reconstructed section of the bridge.

Tørskind is home to a collection of large land art sculptures made of wood, metal and stone, which were created by sculptors Robert Jacobsen and Jean Clareboudt.

Runkenbjerg is a long narrow ridge offering spectacular views of the countryside.

Bindeballe Station and the merchant house Bindeballe Købmandsgård were created in the period when Vandel Railway was founded (1897-1957). The history of the railway can be studied at the old station, while the merchant's house serves as a grocery store and merchant's trade museum.
The forest of Frederikshåb Plantage offers a rare landscape of white sand dunes, heather-covered hills, lakes and coniferous woods.

Naturrum Kirstinelyst is a hands-on experience centre and also the visitor's gateway to Randbøl Hede, Denmark's largest inland heath with wide-open plains, sand dunes and wind-swept heather.

A short section of the route now follows the busy road of Koldingvej, but after 700 metres you are back on track and will soon experience the beautiful scenery along the creek of Billund Bæk and the natural areas south of Billund before heading into town, which is home to major attractions such as LEGOLAND® and Lalandia.