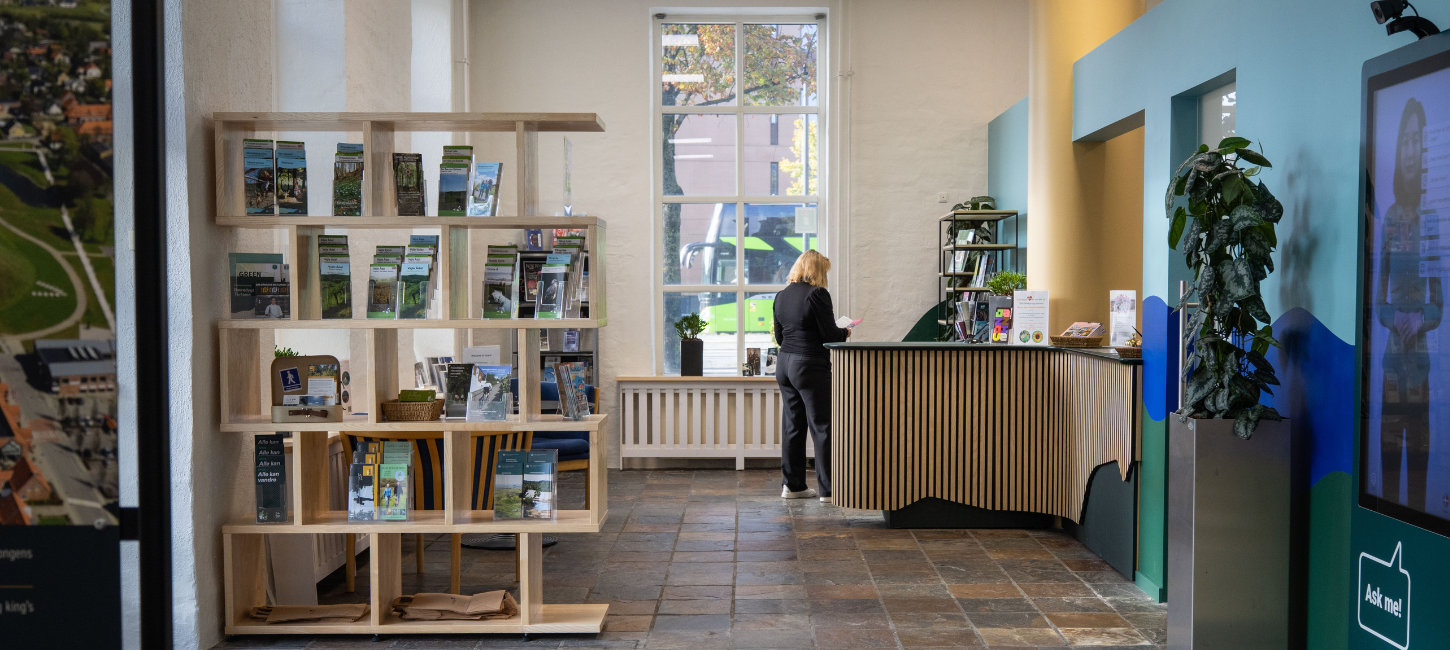 Tourist offices in Vejle
The tourist offices in Vejle, Givskud and Jelling are ready to help you make your holiday a memorable experience.
The tourist offices can assist you with:
- Brochures and maps
- Tour suggestions (only VisitVejle)
- Booking of accommodation
- Guided tours (Guideservice Danmark)
- Sale of souvenirs (only Jelling Tourist Information)
Digital tourist information
At public libraries and selected attractions and accommodations, you will find touch screens with information about the area:
Børkop Library
Egtved Library
Give Library
Jelling Library
Vejle Library
Turistinformation i Vejle og omegn
Har du brug for information eller inspiration under dit ophold i Vejle? Vi står klar til at hjælpe dig fysisk i hjertet af Vejle.
Where can I find tourist offices in Vejle, and when are they open?
VisitVejle
Banegårdspladsen 6, DK-7100 Vejle
Tel. +45 76811925
E-mail: turist@givskudzoo.dk
Opening hours 2023
03.01-28.02.: Mon-Fri 12-16
01.03-31.05.: Mon-Fri 11-16
01.06-31.08.: Mon-Fri 10-16, Sat 10-13
01.09-31.10.: Mon-Fri 11-16
01.11-16.12.: Mon-Fri 12-16
Jelling Tourist Information
c/o Kongernes Jelling, Gormsgade 23, DK-7300 Jelling
Tel. +45 41206331
Opening hours 2023
15.06-31.08: Daily 10-17
01.07-31.08: Wednesdays additionally 17-20
Tourist information outside opening period: VisitVejle.
Givskud Tourist Information
c/o Givskud Zoo, Løveparkvej 3, Givskud, DK-7323 Give
Tel. +45 75730222
E-mail
Opening hours 2023
10.01.-11.02.: 10-14 – only weekdays
12.02.-20.02.: 10-16 - open during the winter holidays
21.02.-01.04.: 10-14 – only weekdays
02.04.-29.04.: 10-17
30.04.-24.06.: 10-17 – weekdays, weekends and public holidays 10-18
25.06.-07.08.: 10-20
08.08.-04.09.: 10-18
05.09.-30.10.: 10-16 – weekdays and weekends 10-17
31.10.-16.12.: 10-14 – only weekdays