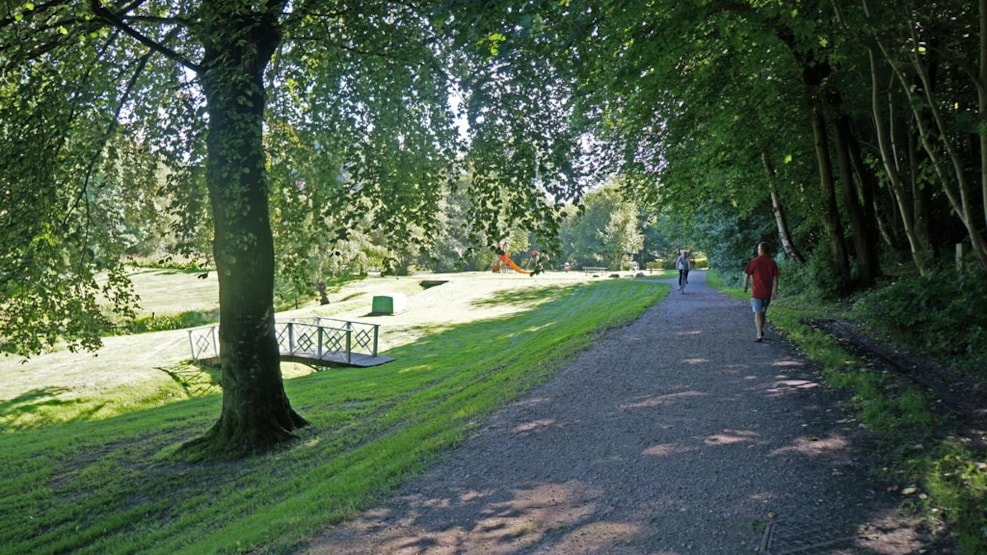 Mølholmsdammen and Tyrelodspynten, Vejle
Take a walk by Mølholmsdammen and Tyrelodspynten beautifully situated at the forest of Sønderskoven in Vejle between Mølholm and Søndermarken. There is a playground for the children and from Tyrelodspynten there you can enjoy a fantastic view of Vejle, especially in the spring.
Mølholmsdammen (Mølholm pond) and Tyrelodspynten (Tyrelod point) are both situated in the scenic Sønderskov forest between Mølholm and Søndermarken. From Tyrelodspynten, you'll find the most amazing view of Vejle, particularly in the spring. The area is connected to the hiking trails in the woodlands of Sønderskoven. 
Access to the parks from Fredericiavej, Jagtvej and Sdr. Villavej, respectively. Mølholmsdammen and Tyrelodspynten are connected via stairs going up the hill through the Sønderskoven forest. 

At Mølholmsdammen, the children can play in the small maze, on the playground or feed the ducks. Near the stream, you will find benches.