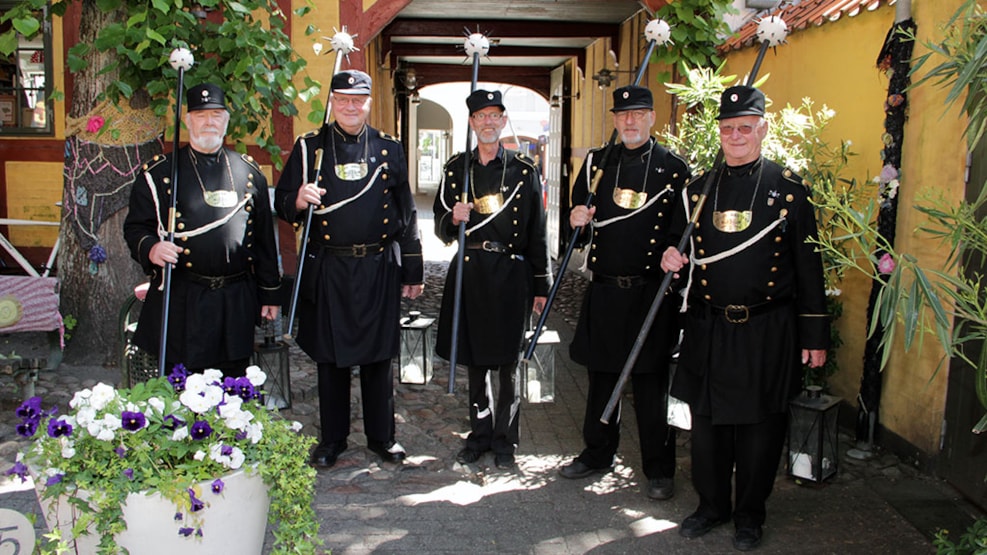 Watchmen's tours of Vejle
During the summer, singing night watchmen invite visitors to Vejle to join them on their traditional beat through the town. The guided tours are featured Thursdays and Fridays between the beginning of July and the end of August and are free of charge.
Hear the town watchmen sing traditional watchmen's songs, listen to their stories about the history and sights of the town, and experience the unique evening atmosphere.

The watchmen are dressed in traditional period uniforms and carry a lantern and a spiked mace – a brutal weapon of yore.

Facts about the watchmen's tours of Vejle
Thursdays and Fridays between 1 July and 24 August 2022. There is one watchmen's tour beginning at 19:00. The tour lasts two hours.

Route: Start by the Lido Cinemas/Bryggen, Søndertorv - Søndergade - Den Smidtske Gård - behind the Town Hall - Klostergade – the Town Hall - Torvegade - Nørregade - Paladspassagen and Bygningen - Nørretorv - Vestergade -Nørretorv - Grønnegade - Kirketorvet - Foldegade - Søndergade - and back to the Lido Cinemas/Bryggen.

Watchman's tradition
The tradition of town watchmen harks back several hundred years. Long before a police force was ever established, town watchmen kept the peace in the evenings, and lit the street lanterns.

In Vejle, town watchmen would also on occasion have to guard the town gates, such as when in 1654 the Vejle region was scourged by the plague.

The watchmen's songs, believed to have been penned by the Danish hymn writer Thomas Kingo, became part of the night watchman's regulations in the late 17th century. They were to be sung every hour at the top of the hour. The songs had a dual purpose, both to ensure that watchmen didn't fall asleep on their watch and to mark the hour.

Being a night watchman was no dream job. They ranked the lowest of all and their pay was poor. In many towns they were given extra chores that no one else would do, such as burying the poor or catching and killing stray dogs.

As towns introduced gas street lighting and police stations were opened, night watchmen became redundant. The last night watchman in Vejle walked his beat in 1882.

Today's watchmen
The watchman's tradition was revived by the Vejle Watchmen's Guild (Foreningen Vejles Vægter). The idea was first conceived as a quaint and colourful event when the town celebrated its anniversary in 2002.

Today there are five watchmen who walk their beat on Thursday and Friday evenings in addition to staging a number of events around town.