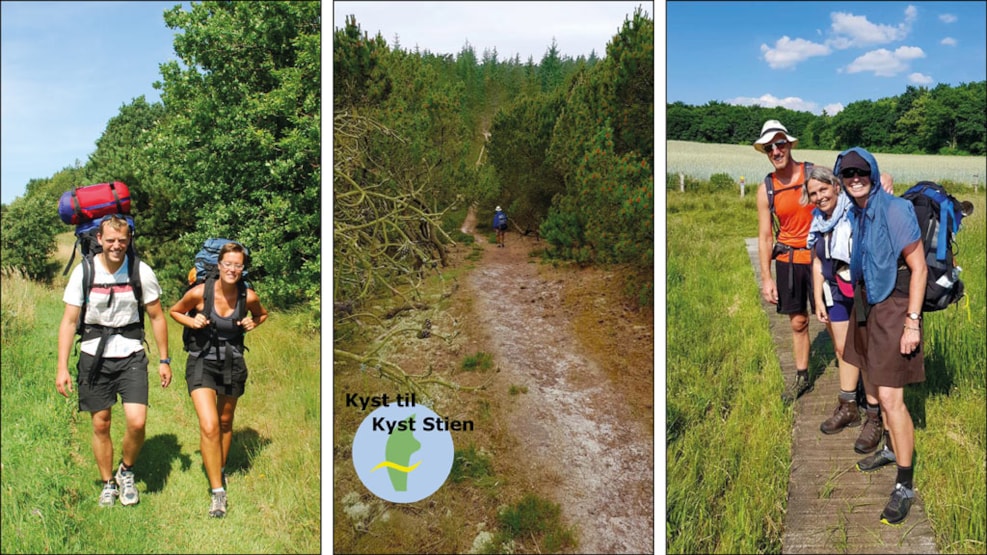 Coast to Coast Trail
On the Coast to Coast Trail, you can experience the scenic nature of Jutland while hiking from Blåvandshuk to Vejle or vice versa. The approx. 130 km nature trail traverses the Jutland Peninsula along three major rivers: Varde Å, Holme Å and Vejle Å.
The Coast to Coast Trail features majestic landscapes of varied kinds of nature. Here, as you hike west to east, wide-open valleys plains turn into rolling hillscapes and deep gorges. Glacial landscapes that were shaped by the last Ice Age approx. 16,000 years ago.
Along the entire route, you can spend the night at campsites offering campfires and access to water and toilets. You can also park your car close to the route and enjoy short nature walks where you can safely bring the children.
The Coast to Coast Trail website www.kyst-kyststien.dk offers tips for your hiking trip. You can download a leaflet and there is also an interactive map of the trail that you can print section by section. The map offers information about accommodation and experiences along the trail. The website also provides inspirational images of the route. Finally, the website gives you the option to download the route to your GPX device.
Start or end your trip in Vejle. Here, you can visit the Ecolarium science and knowledge centre, where you can learn about nature, the environment, the climate and energy. Also, don't miss the charming merchant house museum, Bindeballe Købmandsgård, from 1897 while hiking along the beautiful Bindeballestien. On your trip from Vejle to Blåvand, you will also pass the Barrow of the Egtved Girl, the Ravningbroen Viking bridge and the land art sculptures in Tørskind. On the Jutland west coast, Varde Miniby and the Tirpitz Museum are well worth a visit.