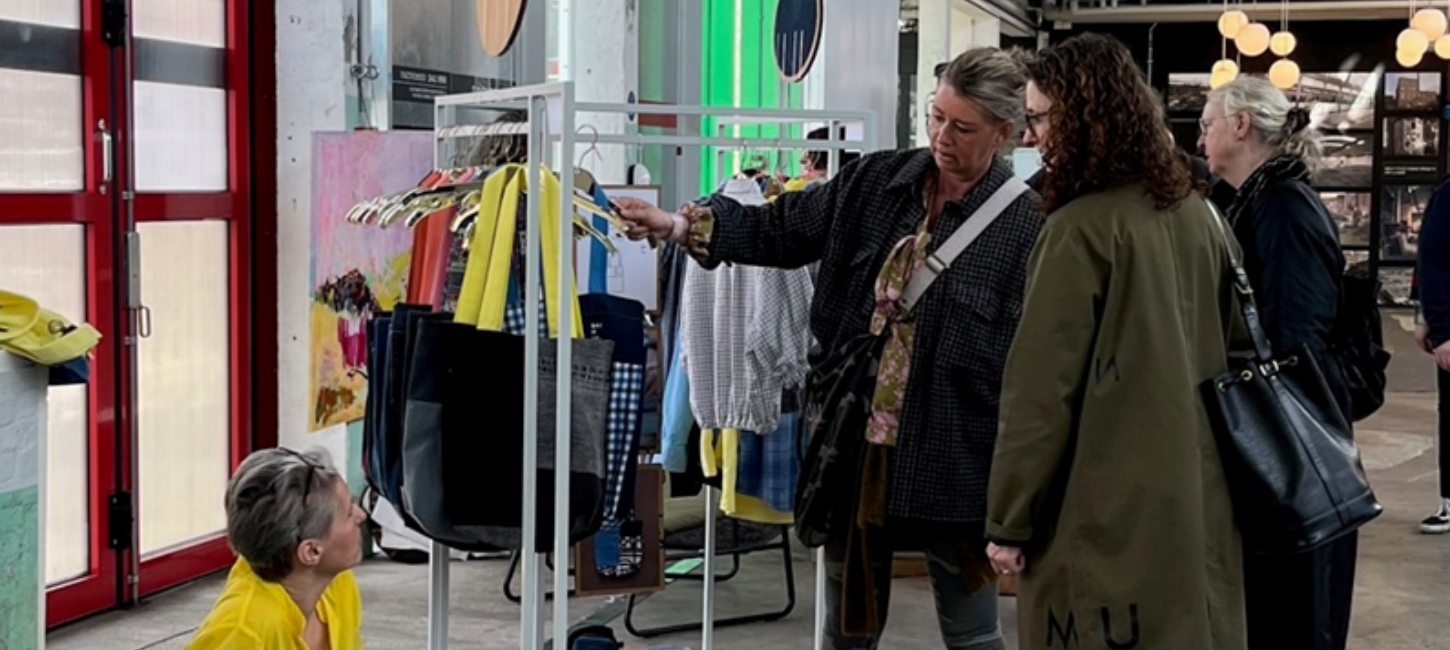 Refashion Vejle
Fashion, fabrics and shopping are part of a holiday experience in Vejle. On this page, you can be inspired by ReFashion Vejle, which seeks to incorporate fashion into the green transition.
About ReFashion Vejle.
ReFashion Vejle is a non-profit community that helps lead the way to a sustainable future within fashion. We seek to create change with and for the consumers of fashion in Vejle – to the benefit of the climate and the green transition.

Our goal is to initiate and inspire activities and initiatives, ranging from swishing events and swap points for clothes, lectures, styling and upcycling workshops, fashion shows and perhaps art installations.

To ensure the initiatives are as simple and tangible as possible, our focus is to create self-sustainable or enlightening projects with minimal costs, which we do in collaboration with our members, other associations, private companies, shops and institutions.
Good reasons to think recycling into your shopping experience
By ReFashion Vejle
Once upon a time, recycling was anything but hip. But that's no longer the case. Now, almost everyone recognises one or more good reasons to buy recycled items:
It is a way to personalise your style: mix and match either with new items or clothing already hanging in your wardrobe

Wallet-friendly – it's cheap

It supports a good cause

It is good for the climate

Using and throwing things away doesn't make sense
Indeed, consuming and discarding clothes – also known as fast fashion – is one of the acts that does the greatest harm to the climate. Because producing new clothes requires the use of materials, such as polyester which is a plastic material, or cotton which is a natural material. These materials must be transported and processed, which emits CO2. Once the wholesale fabrics have been produced by the running metre, they are sent to a garment factory that produces clothes to be sold in shops. A T-shirt in a store is therefore the result of a long chain of activities that we often don't think about. The process is very resource-intensive. For example, approx. 1,400 litres of water are required to produce one T-shirt (source www.miljomaerkning.dk - see also www.taenk.dk for further facts)
Find recycled treasures in Vejle
ReFashion has launched a host of initiatives that can help you enjoy a good and green shopping experience. Read here about cool vintage looks, clothes-swapping cabinets and ReFashion's guide to second-hand shops in the Vejle area.
Clothes-swapping cabinets
All around the Vejle area, you will find ReFashion clothes-swapping cabinets. Here you can swap your own used clothes for new used items. Do you have a garment you no longer wear? Then someone else can surely benefit from using it. You can find the clothes-swapping cabinets here:
Byens Hus in Jelling

Fabrikanterne in Vejle Midtpunkt

Vandel school (repair café) 

Rødkilde Gymnasium, Vejle 

Værket in Vejle

Spinderihallerne

in Vejle