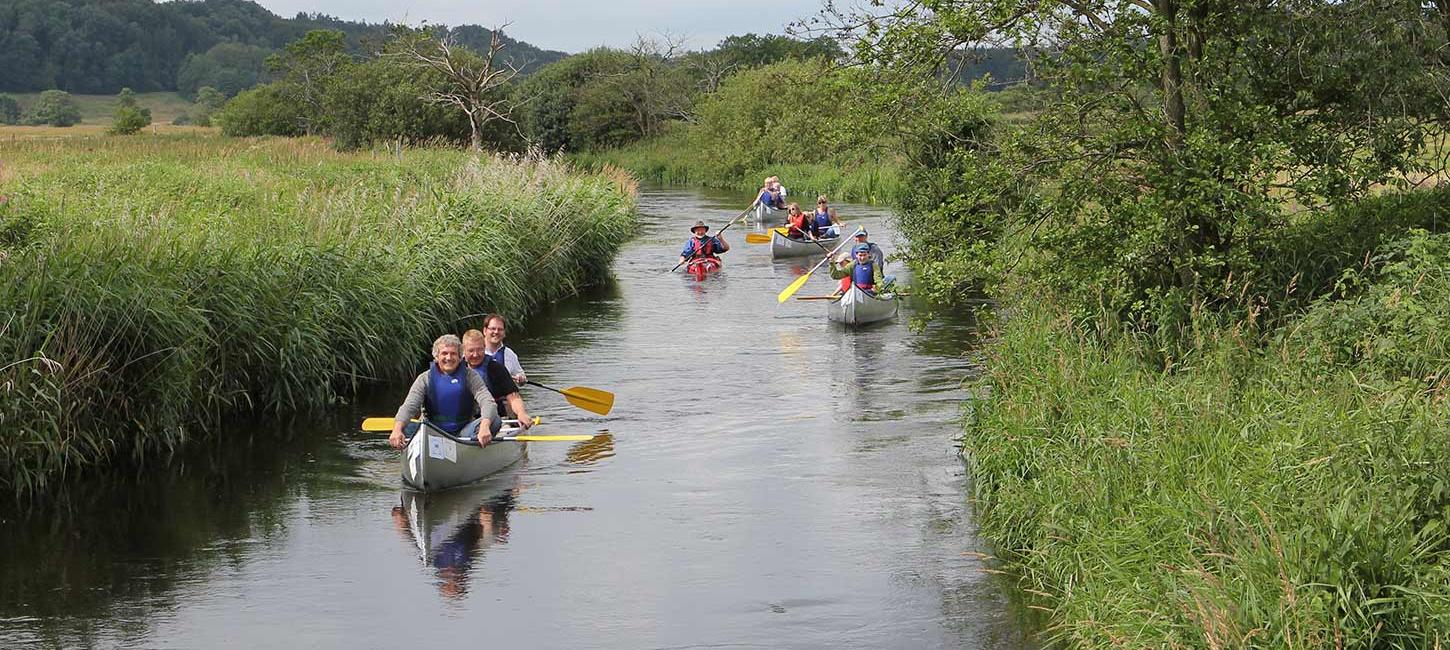 Canoeing and kayaking on Vejle Å
On Vejle Å you can flow upstream in a canoe, kayak or rowboat. The river offers charming and affordable trips through a scenic valley landscape with great rest areas along the way.
Drifting down the meandering Vejle Å, you never know what's behind the next corner. Along the way, you will enjoy views to open meadows with grazing cattle, woodlands and fields.
Vejle Å is approx. 32 km long – from its source in Engelsholm Lake to the estuary of Vejle Inlet. The last stretch of the river passing through Vejle is called Sønderå. The main course runs in a deep valley, which is why its inflow is very steep. You can sail by canoe, kayak and rowboat on much of the main course, from Tørskind Bridge to the Vejle estuary. Sailing approx. 21 km of the river is suitable for a daytrip of 7-9 hours. However, there are several optional starting points along the route.
Distances (approximations)
Tørskind – Ravning: 1 hour
Ravning – Vingsted: 1 hour
Vingsted – Haraldskær Fabrik: 1 hour
Haraldskær Fabrik – Avlsgården: 1 hour
Haraldskær Avlsgård – Buldalen: 1 hour
Buldalen – Rosborg Gymnasium: 1 hour
Rosborg Gymnasium – Vejle Inlet: 40 min.
Free sailing
On the river in urban Vejle – from the motorway bridge over Vejle Å (Bredstenvej) to the estuary (just under 4 km) and in the Vejle Inlet itself – you can sail free of charge throughout the year, both co-current and counter-current, while there are special rules for sailing on the rest of river.
Sailing with restrictions
To protect nature and wildlife, special rules apply to sailing on the stretch of Vejle Å from Tørskind Bridge, north of Egtved, to the motorway bridge at Vejle (Bredstenvej). You can sail on the river from 16 June to 31 December between 8:00-18:00. Since you are only allowed to sail downstream, you must make sure to transport your vessel to the place of departure in Vejle Ådal before sailing towards Vejle. To ensure safe sailing on this section of the river, you must also acquire a sailing permit.
Note: At Haraldskær Fabrik there is a rock line in the river that fish can pass. Due to the strong current, it is recommended that you carry your vessel at this point rather than sail.
Purchase of sailing permits
Sailing permits can be purchased at udeliv.vejle.dk (in Danish) at DKK 35 per vessel. A maximum of 12 sailing permits can be issued per day, so booking well in advance is advisable.
When you purchase a sailing permit, your receipt acts as your sailing permit. The sailing permit must be visible from land, so printing it, placing it in a plastic pocket and sticking it on the vessel is recommended (each vessel must have its own sailing permit).
Guided tours
Varneskov.dk arranges guided canoeing and kayaking trips on Vejle Å for private and corporate groups.
Accommodation along Vejle Å