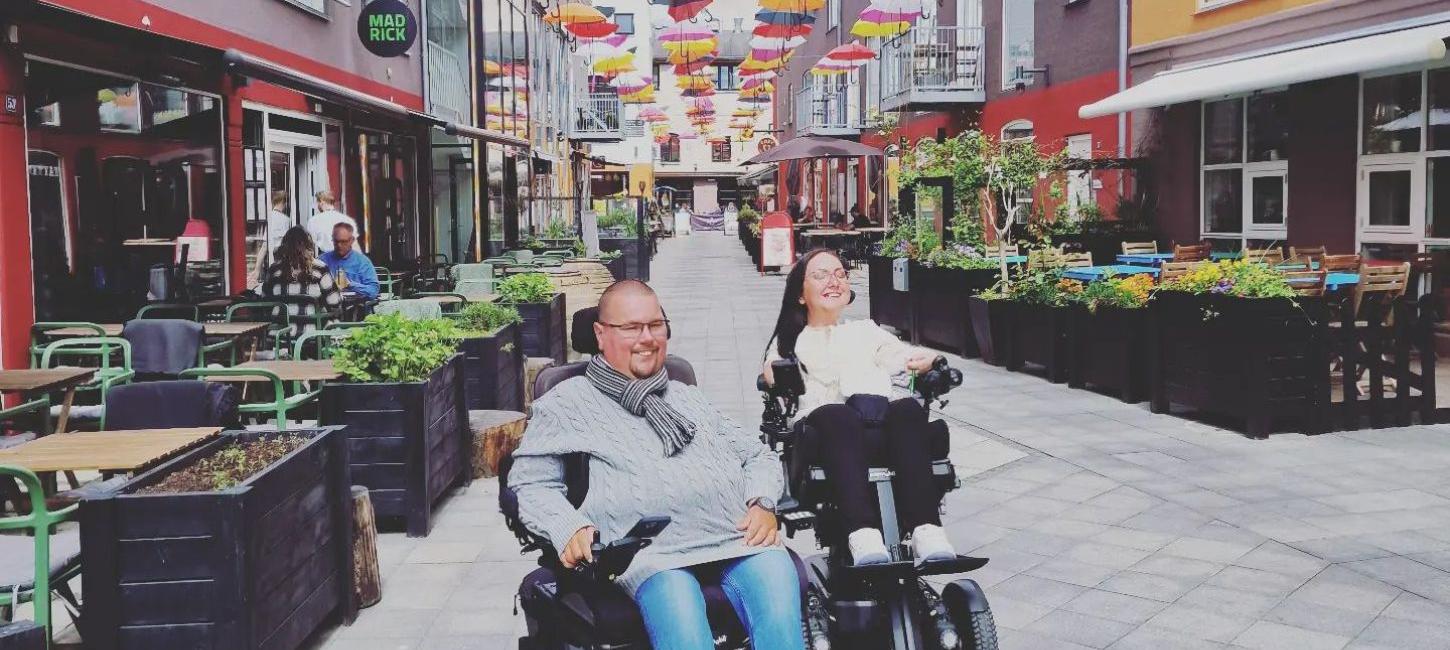 Preben recommends
Photo:
Preben Steen Nielsen
41-year-old Preben Steen suffers from muscular dystrophy and is wheelchair-bound. Below, he offers his recommendations on places to dine in Vejle, where accessibility and quality are paramount.
For almost 15 years, I have lived in the heart of Vejle and enjoyed the city's great selection of cafés and restaurants within all price ranges. Occasionally, however, you encounter obstacles as a wheelchair-user. The main issue is poor accessibility, limited parking or lack of disabled toilets. Fortunately, there are many great places to eat both in and around Vejle. In the following, I will share with you a few of my personal favourites.
Let's start downtown, which is the area I love the most. In the recently renovated PALADS PASSAGEN, you will find Vejle's new Social Dining concept that features a good selection of food from all corners of the world at friendly prices. There is plenty of space and both small and large tables, a fine disabled toilet and several disabled dining spaces right by the entrance. In addition, the place also has a popular and charming pool bar as well as the Triangle Area's best music venue, if you ask me.
Continuing a little further down the pedestrian street, we find Conrads in Den smidske gård courtyard. There is a little less space here, but it is still possible to find a table. Both the coffee and food are great. The toilet facility is spacious and there is disabled parking in Fjellegade just behind the café or by Blegbanken.
Søndertorv at the opposite end of the pedestrian street also offers plenty of culinary experiences. The toilet facilities and the good parking facilities at the BRYGGEN shopping centre complement the three large nearby cafes: the LIDO café, Velvet and Vivaldi. All these places offer plenty of space, and should one place be crowded, you'll probably find a table at one of the other two places.
Just a stone's throw from the pedestrian street, you find Torvehallerne, which with its greenhouse guarantees a great all-night experience. This I know because I was lucky enough to end my bachelor party there. Torvehallerne serves Danish classics, delicious pizzas, sushi and really good cocktails. There are good parking options, a small but well-functioning disabled toilet, and otherwise just generally plenty of space and many tables.
In a somewhat higher price range, you find Remouladen by the marina. Hailed as Smørrebrød Restaurant of the Year, they naturally master Danish open-faced sandwiches to perfection. Personally, I prefer their other dishes, which are also of sublime quality. With prestigious buildings and architectural masterpieces as their neighbours as well as a wonderful view over the Vejle Inlet, Remouladen is definitely recommendable. Disabled spaces are located on the lower level and there is a nice elevator and toilet facility.
Finally, I would recommend a visit to Enzo & Co. a little outside town, more specifically by the motorway exit with the funky name "Exxit 59". Despite being a gigantic restaurant, there is plenty of atmosphere, delicious Italian food and views into the kitchen, where the skilled chefs exchange lively Italian phrases, which adds to the authentic experience. Here there is a giant disabled toilet, dedicated parking space right by the entrance – and naturally really good food.
Have fun and enjoy your food while visiting Vejle's many offerings!
Preben
Read about Preben's recommendations